Venues
6018 North
Website
6018 North's dilapidated mansion is located in Edgewater, one of Chicago's most diverse neighborhoods. Located in Edgewater's Kenmore-Winthrop dense corridor of apartment buildings home to CHA, Section 8, trans-gender residents, and international refuges, as well as single family homes and condos, this neighborhood is diverse on multiple levels — economics, race, ethnicity, sexual orientation, age, and education. Yet diversity does not necessarily create a diverse community. Therefore 6018North asks how artistic encounters can connect neighbors and create a space to meet through art, food, architecture, and/or performance?
6018North is also itinerant. We create exhibitions and events in storefronts, on the beach, streets, gardens, and in classrooms. Wherever we are, we invite artists to transform spaces through art while drawing people together.
Aspect Ratio
Website
Opened in 2012, Aspect/Ratio is a contemporary art gallery focusing on video and performance based artworks from an international group of emerging and established artists.
The gallery was inaugurated in September of 2012, with a solo show by Gilad Ratman which received favorable reviews in both Artforum and TimeOut. Subsequent shows have garnered reviews in Artforum, Modern Painters, The Chicago Tribune, Hyperallergic, ArtFCity, New City, Bad at Sports and afterimage amongst others.
Gallery artists have shown internationally at institutions such as MoMA, The Guggenheim, The Israel Museum, The Brooklyn Museum, The Museum of Contemporary Art of Chicago, Sculpture Center and La Panera Art Center.
Beauty Bar
Website
Nightclub chain featuring martinis, DJs & dancing in a retro-salon setting. $10 "martini and manicure" deal.
Chicago Cultural Center
Website
Drawn by its beauty and the fabulous free public events, hundreds of thousands of visitors come to the Chicago Cultural Center every year, making it one of the most visited attractions in Chicago. The stunning landmark building is home to two magnificent stained-glass domes, as well as free music, dance and theater events, films, lectures, art exhibitions and family events.
Defibrillator
Website
Founded in 2010, DEFIBRILLATOR GALLERY (a.k.a. DFBRL8R or dfb) is a 501(c)3 arts organization dedicated to fostering local makers while invigorating Chicago by bringing to the city artists of exceptional calibre from around the world. Focusing on ephemeral and time-based artistic practices, DFBRL8R contextualizes performance within visual art, embracing those who look to the body in concert and conversation with time, space, object, architecture, and society. Providing opportunities for established and emerging artists alike, DFBRL8R is a platform for underrepresented voices and time-based work that does not sit comfortably within pre-established genres or disciplines. Dynamic programming, decidedly fearless and unique, aims to provoke thought and stimulate discourse. We foster and contribute to a global dialog surrounding conceptual, ephemeral, or enigmatic forms of expression.
High Concept Labs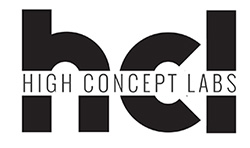 Website
High Concept Laboratories is an arts service organization dedicated to supporting working artists and engaging the Chicago community with arts and culture. Partnering with artists at every step of the creative process, HCL offers high-quality custom support services including administrative assistance, audience development, production support and space use. HCL also curates and hosts artist showcases, presents special community events, and facilitates educational arts partnerships. With a vibrant cycle of programs and process-support, High Concept Laboratories grows community alongside culture and fosters new audiences for the arts.
Hyde Park Art Center

Website
Founded in 1939, the Hyde Park Art Center is at once a contemporary art exhibition space, learning lab, community resource, and social hub for artists and art-curious alike. The Art Center presents innovative exhibitions of new work by primarily Chicago-based artists; education programs for children and adults, novice through professional; and, free public programming for a diverse and creative audience.
Links Hall

Website
Links Hall encourages artistic innovation and public engagement by maintaining a facility and providing flexible programming for the research, development and presentation of new work in the performing arts. Since 1978, Links (a 501(c)3 organization) has incubated performing artists through its residency programs, artist-curated festivals, cabaret and performance series, co-presentations with self-producing artists, low-cost space rentals, direct grants to artists, workshop programs, apprentice producer program, fiscal sponsorship program, and as one of 72 presenting and visual arts partners in the National Performance Network. Links Hall has provided research, development and performance opportunities for nearly 10,000 artists and welcomes an average of 6,000 audience members per year. Our programming provides a fail-safe environment where both artists and audiences can take equal risk.
Mary and Leigh Block Museum of Art

Website
The Mary and Leigh Block Museum of Art is the fine arts museum of Northwestern University and Chicago's North Shore. It serves the academic and cultural needs of the University and community through: Thought-provoking exhibitions, Rich and diverse permanent collection, Original scholarship, Dynamic educational and cultural programs & Classical and contemporary film screenings at Block Cinema.
MCA
Website
Located between Lake Michigan and the Magnificent Mile (Michigan Avenue), the MCA champions the provocative side of contemporary art and culture. Our innovative exhibitions, performances, and programs will inspire you.
Northwestern
Website
The Department of Performance Studies lives at the sprawling intersection of personal narrative, literature, culture, technology, and performance theory. By thinking critically about cultural performance, students and faculty in the department bend—and sometimes break—long-standing concepts of what performance really is.
Poetry Foundation

Website
The Poetry Foundation, publisher of Poetry magazine, is an independent literary
organization committed to a vigorous presence for poetry in our culture. It exists to discover and celebrate the best poetry and to place it before the largest possible audience.
Red Rover Series
Website
Red Rover Series is curated by Laura Goldstein and Jennifer Karmin. Each event is designed as a reading experiment with participation by local, national, and international writers, artists, and performers. Founded in 2005, the over ninety events have featured a diversity of renowned creative minds.
SAIC Department of Performance
Website
The School of the Art Institute of Chicago's (SAIC) Department of Performance was founded in an experimental spirit and is unique in the United States as one of the only contemporary performance departments in an art school at the undergraduate and graduate level focused on performance practice and performance studies. The department continues to evolve in relation to new developments inside and outside the field and aims to be responsive to new ways of seeing and understanding the world in the 21st century, from both student and faculty perspectives.
Salonathon
Website
Salonathon is an engine for experimental work, an inclusive creative community, and a great party. It manifests every Monday night at Beauty Bar, and also in the form of residencies, retreats and partnerships beyond. Since 2011, Salonathon has hosted thousands of performances and artists, and has nurtured the development of dozens of new projects and collaborations.
Sector 2337
Website
Sector 2337 is a storefront gallery and bookstore opening this October at 2337 N Milwaukee Avenue. Functioning as Head Quarters for The Green Lantern Press, Sector 2337 hosts three exhibitions a year, maintains a vibrant schedule of public programs, as well as a niche on-line bookstore and an in-store bookshelf specializing in contemporary art, poetry, theory, and independent press titles. By marrying these threads — contemporary exhibitions, readings, performances, poetry, and printed matter — we continue the spirit of The Green Lantern Press, making community, culture, and discourse easily accessible to Chicago.
The Bridge
Website
The Bridge was founded by Kestutis Nakas in 2014 with the mission to bring professional quality live theatre to Chicago's Bridgeport neighborhood at reasonable prices.